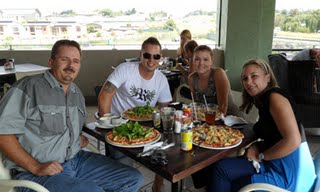 The Topboss design Team have been hard at work during the past few weeks, whilst we have been converting old frontpage websites to Dreamweaver sites and various other tasks with stringent deadlines.
They certainly deserved to have the afternoon off to grab a bite to eat!
From left to right; Jan is our I.T Technical Manager, Shaun is our Office Manager and Charlene and Yolandi are our Website Designers.
Without this team – Topboss would not be as successful as it is!!
Well Done Guys!