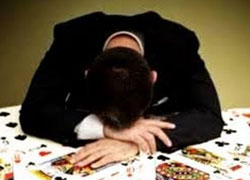 How do you become a responsible gambler? Perhaps you're thinking that quitting or stopping is the best route to take. But if you simply love playing your favorite games at sites like those listed at online casino nz, and you cannot entertain the thought of quitting, don't worry. There are five simple ways on how you can become a responsible gambler.
How to Become a Responsible Gambler
Decide how much you are prepared to lose before logging in or sitting at the tables (bankroll management).

When you have reached your limit, stop playing! Avoid chasing losses, one of the biggest mistakes to make in gambling. If you're having a bad streak and you have reached your bankroll limit for that session, quit playing and just come back another day. Trying to recoup your losses is a bad practice; in fact, it might also lead to losing more money in the process or even incurring debt.

Speaking of bankroll management, wise players set aside about 10% of their income and put this in another account (their gambling account). In the process, they avoid using their household or personal money in gambling. You can do the same and become a responsible gambler. Set a bank account for gambling and use only that money when playing.

Also, think of the money you lose as entertainment cost and money you win as a bonus. In gambling, understand that you will probably lose and losing is a part of any game.

Do not borrow money for gambling (follow-up to #1).

One big mistake of gamblers is that they try to recoup money they lost at the casinos and never stop playing until they win it back. But the problem is that this practice won't help but even worsen the situation. Many of them would borrow money just to keep on playing.

Self-assess. To become a responsible gambler, it would be wise to take a self-assessment test that will determine your gambling habits, allowing you to address problems before they arise. There are good online sources that can let you take self-assessment tests, which can determine what bad gambling habits you have. In the process, you can make adjustments to avoid developing a potentially harmful gambling habit.
Decide beforehand when to stop if you happen to win. So if you're up by 20% for instance and you're able to beat the odds, you should stop. Otherwise, you will lose if you continue. This is a proven certainty. Aside from planning when to stop when winning, you should also plan when to stop when losing to avoid big losses as well as to become a responsible gambler. But you don't only plan when to stop when winning or losing, you also have to plan how long or how many hours your session will last.
Take a break from gambling. Learn to walk away from your computer, get outside and talk to a family member, giving you the chance to clearing your head up and some time away from gambling. After all, you should not consider gambling as a replacement for your family, friends and loved ones. Also, gambling should not be the only form of entertainment to consider. You can try exploring and developing other hobbies and interests.
Gambling is fun and entertaining. However, make sure that you practice good gambling habits to avoid becoming addicted to it. And to become a responsible gambler, follow the tips shared above. Again, determine a bankroll and stick with it, know when to stop when losing or winning and take a break from gambling, to name some, and you will be just fine.
An extra tip – have a look at sites like gambling sites review – read about the various sites, what they offer and often what other players think of them. Unfortunately in the online casino market there are quite a few unscrupulous operators and reading reviews could help you in not losing before you even started.
Finally, don't gamble when you're depressed or stressed. Any of these won't make you a good and wise gambler because they won't help you make good decisions in the games.